Automatic stop saw 2
Click times:
Date of release:

2019/03/06

Specifications:
Type: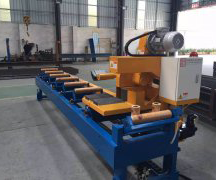 Automatic interruption saw is the rear equipment of aluminum extrusion, high degree of automation, simple operation, smooth operation, safe and reliable; High efficiency, low power consumption, low noise; This machine adopts servo motor network control.
Manual cutting in any mode;
Fixed-length cutting;
3. Profile indentation cutting;
This machine is used to replace the traditional manual sawing operation, to achieve continuous discharge, improve productivity and quality, is the best choice of aluminum extrusion equipment.
The address of this article:http://www.fsgaoteng.com/en/product/607.html